'Everyone's tired of it' says NBA coach Gregg Popovich as he refuses to kneel for 'Black Lives Matter' or national anthem
His assistant coach as well as an African-American player joined him in not kneeling for the anthem before games.
The NBA reconvened this week with the regular season being finished in one location after the coronavirus interruption through the spring.
The Disney Sports Centre in Orlando has been turned into a huge basketball complex, and the main showcase televised courts have Black Lives Matter written on them with players warming up in the slogan t shirts.
Nearly all of the staff and players have kneeled during the anthem whilst wearing the Black Lives Matter t shirts, except for one Orlando Magic player and San Antonio coach Gregg Popovich and his assistant Becky Hammon, who remained standing for the anthem before their games.
"Enough is enough," he said. "Everybody's tired of it, especially the group that has been degraded and savaged for so long. People who don't understand Black Lives Matter or are offended by it are just ignorant."
Asked why he didn't kneel the Spurs head coach said that 'he doesn't need to give his reasons why.'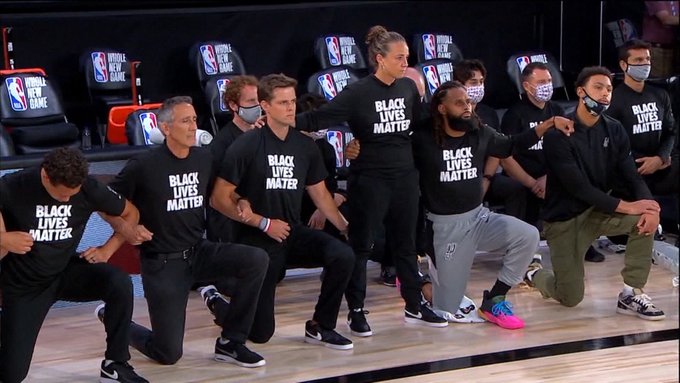 Another person who didn't kneel was Orland Magic star Jonathan Isaac.
The NBA star explained his decision by saying that kneeling or wearing a Black Lives Matter T-shirt "don't go hand in hand in supporting Black Lives Matter", and added that "Black lives are supported through the Gospel".
Isaac was seen standing while teammates knelt around him before the Magic's victory over the Brooklyn Nets.
Explaining his decision, he said: "I do believe that Black lives matter, I just felt like it was a decision I had to make, and I didn't feel like putting that shirt on and kneeling went hand in hand with supporting Black lives.
"I don't think that kneeling or putting on a T-shirt for me, personally, is the answer.
"For me, Black lives are supported through the Gospel, all lives are supported through the Gospel."
Popovich's side beat the Sacramento Kings 129 to 120.