Chrissy Teigen calls toddlers 'sexy and 'eye candy' and threatens to quit Twitter after being labelled a paedophile
Some social media users also alleged that Teigen once flew on Epstein's private jet saying they've seen her on the 'flight log'.
The 34 year old online entertainer says she was also accused of being a "paedophile" which she vehemently denies.
She tweeted on July 10, referring to Epstein saying "I have never even met the man. Or been to the island. Or on the plane."
Teigen, who is an American model and television personality, has been the subject of thousands of accusing her of being involved in paedophilia.
She deleted millions of tweets in which she said she never wrote.
In one of her tweets she talks about how 'sexy young girls are doing the splits' and that she should just 'go to jail' (in reference to her pedophilic attitude).
In another tweet – which has also been deleted among a million others – she talks about how sexy toddler's tummies are.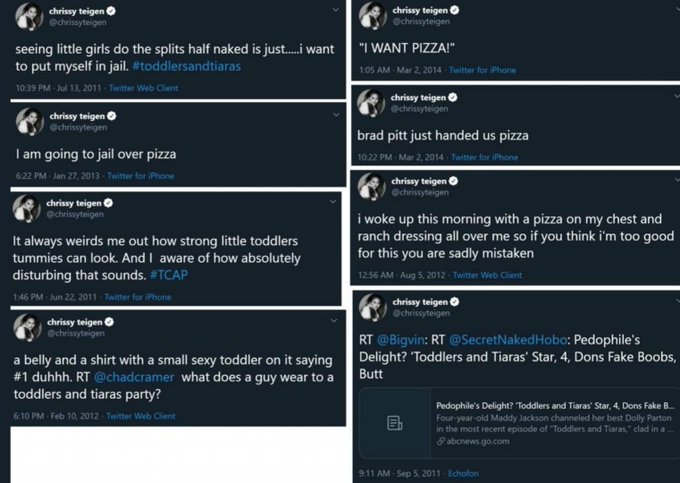 She even tweeted 'I'm about to Anthony Weiner this kid' in relation to the New York senator who was jailed for child sex offences.
However, Teigen hasn't admitted to them and has backlashed at the online world.
"I have block chained over one million people, ONE MILLION people today and I am still flooded with sick psychopaths. So please, spare me the 'just ignore them, they're just trolls,'" Teigen, 34, tweeted.
"Anyhow I'll do my best to stop entertaining them. They have definitely been living for this and have zeroed in on ONLY me.
"Thank u to EVERYONE for helping me, in and out of the dm's. People I've never met have been so, so kind and huge thank you to [journalist Yashar Ali] especially."
Left-wing media group 'Blast' backed Teigen up saying that 'This level of targeted harassment has got to be disheartening, and it's getting to the point that Teigen is even considering leaving Twitter completely.'
After her tweets were exposed, Teigen blocked them and is now shifting the blame onto a 'conspiracy theory' group known as Qanon.
The group are labelled as 'far-right warriors' who are outing the' deep state' – a cabal of corporations and high ranking bankers and officials who are believed to worship Satan.
Qanon are against the trafficking of women and children – just like President Trump – and want to bring about the fall of this Cabal, a war they say they are winning.
Calling themselves the red pill warriors, meaning they have taken the red pill seen in the Matrix films, and have their eyes wide open to the darkness over the world that are 'government and corporations.'
In Teigen's case, her anger comes as she retweeted an accusation against her and her husband, John Legend, and threatened to leave the platform if Twitter doesn't do something about it.
When someone wrote, "Lord, please save that child from the torment and suffering it will endure under those parents. May the cycle end with him. God bless," she immediately fired back.
'If twitter doesn't do something about this actually scary harassment, I am gonna have to go.'
No charges have been brought to Teigen over the Tweets of children.
Teigen's account is still active where she has over 13 million followers.